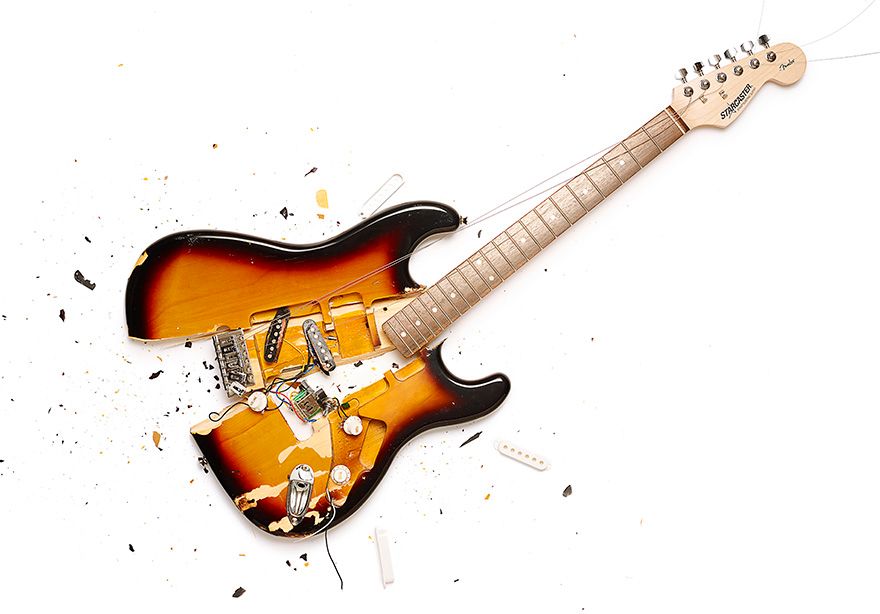 I've been playing a long time.
My musical journey began at the age of 7 or 8. My family had been fractured and music was very much an escape. My best friend.
I had not long arrived in the UK, having grown up in East Africa, the Son of Brits stationed there, and was experiencing a certain level of culture shock that was difficult for a small kid I guess.
My first instrument was a guitar, brought for me by a parent from Woolworths. really cheap but I loved it and flourished even though it would be several years before it became clear that it was right handed and I was playing it upside down as I'm left handed. But it didn't seem to matter. Although I had no idea what I was doing, somehow I developed a way. By the age of 14 I was regularly taking the guitar to school and terrorising supportive teachers during lunch breaks playing along to ACDC, Rush and most of the classic 70's bands. probably pretty badly but it got me noticed by many. And not always for good reasons. It seemed the better I got the more some people had a problem. This was to be a bigger factor in my life than I would ever imagine. And would derail me at various points that in hindsight would prevent me progressing in the ways I could have.
You could say that in many ways my introduction to music had been a little unconventional.
Like most teenagers, I wanted to fit in, wanted to be liked and accepted. I've always had an increasingly eclectic taste in music, always interested in something different. And this didn't sit well with individuals that wanted me to do the same old thing. I developed an interest in folk, mainly Donovan. Being able to perform solo. Although a lot of my formative years were spent playing Pink Floyd and The Eagles etc while the main interest in my local area was very much "Blues" and later on "Ska". Both of which I had little to no interest in playing. The same could be said for covers, while I has happy to play these at get togethers, when it came to any involvement in bands for instance I was only interested in originals, this and doing something different from everyone else. I didn't see the point of just repeating (badly) what others had already done, and still feel this way.
My interest in "something different" continued, I became more interested in unique players like Frank Zappa, Gong and the compositional works of the 70's prog outfits particularly. This and the 4AD catalogue of Dead Can Dance and The Cocteau Twins and others like the early Tangerine Dream albums for instance. And although it presented vast opportunity for musical growth, it also stunted plenty of social growth as a result.
I did however, discover the sound of a bass drone around this time, and liked it a lot! 
Over the years I've had many departures from music. Relationships and family and the practical aspects of life can be a problem for most musicians unless they are lucky enough to be able to forge a career. But this takes money. And this was always a problem that would inevitably enter the frame when it came to any dizzy aspirations. I've had frustrations not only financially but due to the constant expectation in others for other aspects of life to be a priority. And indeed completely stopped for around 15 years after losing contact with my Son.
So what's the problem with music?
Well, in my experience, music was the problem, my music specifically....... or at least my involvement in it. Whether it was consuming too much time for jealous partners, or shining just a little too much for other jealous musicians or friends. The problem for me was that music has actually been the source of far more division and derision in my life than being the "bridge" to connect with people that I had always intended. I realised that for many, the fact that I played at all was a "problem" and sadly this has always been the same, and the cost of many friendships.
For example, once, after relocating from my home town to study audio production in London in the early 90's. A fellow guitar buddy's girlfriend at the time made the mistake of stating how much she enjoyed me playing at a party, this resulted in him completely blanking me the following day and never speaking to me again!. Jerk! But it happened. I liked the guy too, I thought we were friends.
It's tough when something that means so much to you provokes this kind of response in others, resulting in a direct choice between, "if you want to have friends, you'd better dim that shine buddy" and wanting to put on a good show and be the best you can at any point in time. This, and many many other instances of this kind of behaviour led to me being forced to contemplate the whole nature of "friendship" and how vulnerable and ultimately fickle  these dynamics can be. Leading to a complete and lengthy abandonment of music as a "source of negative occurrences in my life" at one point. Me turning my focus to photography and film for many years till the same happened in this area too.
It was at this point when I realised that you're damned if you do and you're damned if you don't. And that being considerate of others feelings regarding what I choose to do with my life had only led to betrayal, homelessness and left me both unhappy and destitute in my life. With many taking advantage of my nature resulting in well over 4 years over the course of my life living rough due to other peoples unexpected decisions.
It was a hard lesson to learn
In 2019, I decided I would do what I should have done years before and put myself first. I began to get what equipment I needed, slowly rebuild and to begin producing music again, for me.
I had lost everything from long term relationships, children, pets, homes and whole established lives I'd built on three occasions, that others subsequently thought would be ok to strip from me to serve their ends and kick me while I was down in the process. Something that became somewhat of a community blood sport on occasions due to my refusal to accept the biased narrative of events that was being perpetuated. I suffered numerous unfounded attacks on my character in an attempt to justify the disloyal actions of people essentially wanting to jump to different timelines at my expense.
Frankly, I had nothing left to lose. 
I began producing while working full time and started producing music for licensing and it went from there. Slowly adding equipment from scratch to this day.
I now produce the music I want without any apology, to the best of my ability with whatever equipment I have at my disposal at the time, as different as I want, when I want, speaking on experiences from my life both as a kind of exorcism and also a result of the more spiritual beliefs I've adopted and discovered along the way, not that I'm religious in a conventional sense, every song has a meaning, for the first time in my life.
I don't pre plan pieces, they just go where they go and I try not to question, analyse  or micro manage. Indeed as of writing this most of my equipment is still not available to me as my life is still in a certain state of flux.
Between 2019 and present day I've now produced 10 albums and I love them all for what they are, and that is all that matters to me. They are the nearest I've come to being a direct reflection of my life and are a source of great pride for me on a personal level due to the restrictive and very tumultuous emotional circumstances surrounding their production. 
I realise that for some, my "stuff" will probably always be a little too "out there" for their taste, after all, we like what we like. and that's ok.
And there will always be some with nothing to say (or plenty to say but not to my face), who prefer not to listen, encourage or support me for whatever reason only they know. 
The only difference is, I no longer care!