As part of my series of posts looking deeper at albums and how they were done. This time the focus is on my recent Jan 2023 album "The Door Into Summer".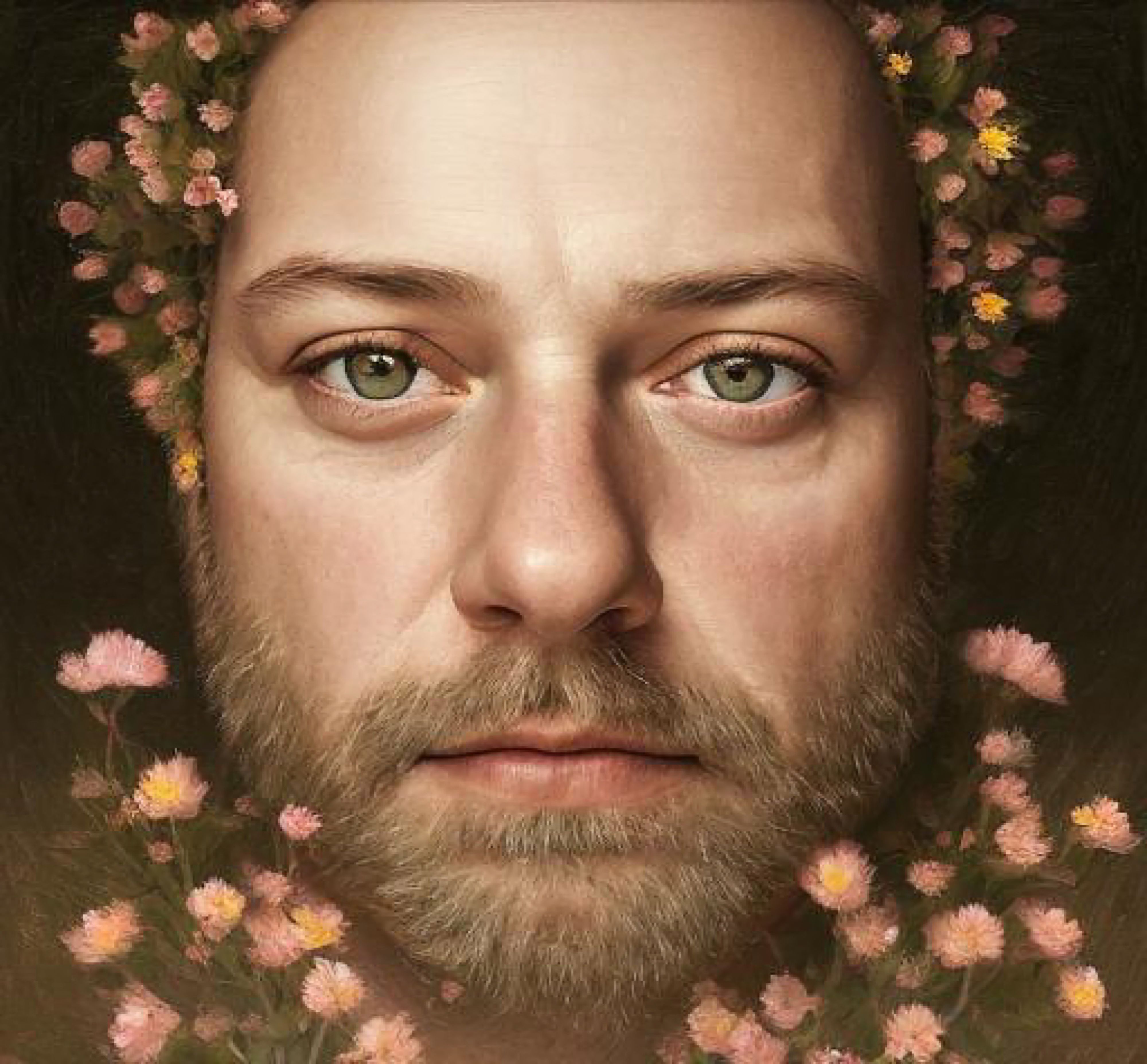 Rus Turner - The Door Into Summer  Released in continuous format 08/01/2023, 9 Tracks
1. Your Light Irritates Their Demons 
2. The Door into Summer (Part 1) 
3. The Shedding of a Skin 
4. As Simple as Water is 
5. The Terminus of Gravity's Rainbow 
6. The Door into Summer (Part 2) 
7. 803 Days, 9 Hours and 39 Minutes in Space 
8. Mother is a "Verb"
9. To Die for Lack of an Encouraging Word
Tracks 1, 7 and 8 had already been written and recorded prior to my beginning work on the "Twisting Concepts of Reason" CROSSWATCHER album. All of the other titles were completed in the latter part of 2022 and finalised at the beginning of Jan 2023.
As my equipment has been in storage, this album was completed with minimal equipment due to my studio setup not being available. Namely the 2012 MacBook Pro, an Akai MPK Pro Mini keyboard for midi and a BOSS Loopstation used purely as a porting system to the MacBook for the recording of the guitars.
"Your Light Irritates Their demons" employed the use of an upright piano from a Spitfire library and both "803 Days, 9 Hours and 39 Minutes in Space", "The Shedding of a Skin" and "Mother is a "Verb" were done using Spitfires BBC Symphony Orchestra plugin for orchestral arrangements.
I also used another Spitfire plugin on "Mother is a "Verb" which formed the basis for the whole track. This plugin was part of their free "Labs" series and is called "Micah's Choir"
"The Door into Summer" parts 1 and 2 were born out of experiments with pulsating strings and after completing Part 1, I decided on a second version employing a beat, juxtaposed to the main pulse of the strings. Taking the feel in another direction, The mono synth and piano arpeggiations providing more depth by using yet another syncopated timing.
"As Simple as Water is", "The Terminus of Gravity's Rainbow" and "To Die for the lack of an Encouraging Word" used several guitars, with acoustic, electric guitars and bass used on ASAWI and a Nashville strung acoustic and bass on TTOGR. All guitars on TDFTLOAEW were electric. All other instruments were software based and played via the Akai and were mainly reason stock with Toontrack Easy Drummer handling the sounds for the drums.
All FX used on the album was Reason 12 stock, with guitars being ported in clean.
As always, no pre fab samples or sound bites were used
Here's the full rundown
"The Door Into Summer" (2023) 
Mixer/IO: none (Guitars recorded Direct to MacBook Pro from Boss RC505 Looper) 
Midi Keyboard: Akai MPK Mini 
Recording Software: Propellerhead Reason V12 
Computer: Apple MacBook Pro 2012
Drums: Toontrack EZ Drummer Software 
Plugins: e-Instruments: "Stringwerks", Toontrack: EZ Drummer 
Spitfire Audio: "BBC Symphony Orchestra", "LABS" Sound Libraries 
Guitars: Acoustic and Electric Guitars via Boss RC505 Looper direct to Mac 
Guitar List (All strung RH but Played upside down LH) 
Acoustic 
Hohner 6 string 
Ibanez LH 6 string (Strung RH "Memphis")  
Electric 
Hamer 6 string ST Lead 
Yamaha 4 & 5 string Basses 
Microphones: Sontronics STC-2, Neewer N-7200
Recording Mixed on headphones, No Monitoring
The photo below shows the entire setup on my bed, MacBook Pro running Reason 12, The Boss RC505 that either the guitars were recorded direct to the MacBook through or in the case of the acoustic guitars were recorded via microphone, again plugged into the 505. The 505's Loop capabilities were not used at all. Neither were it's FX. It was purely a porting system to enable me to get the audio from outside sources into the MacBook and therefore wasn't even needed at other times. And finally the Akai MPK keyboard was used for midi input to play the various software instruments and also to have some form of hands on real time control of mix parameters during mixdown via the use of key and fader mapping.
All arrangement, fx, mixing and mix automation were done in reason and conveniently saved within the working file enabling me to work on tracks quickly and easily. Reason is a fantastic platform for keeping things self contained in this way, proving that with a little creativity you don't need a ton of equipment to make even pretty large projects viable. In many ways this minimalistic way of working is very effective essentially enabling me to work pretty much anywhere with very minimal set up times.
A great compact setup that I originally experimented with but I've now used for 2.5 of my most recent albums. Around half of my "Mirror Reflects The Projection" was done in this way, as was the entire "Twisting Concepts" CROSSWATCHER album and this one of course.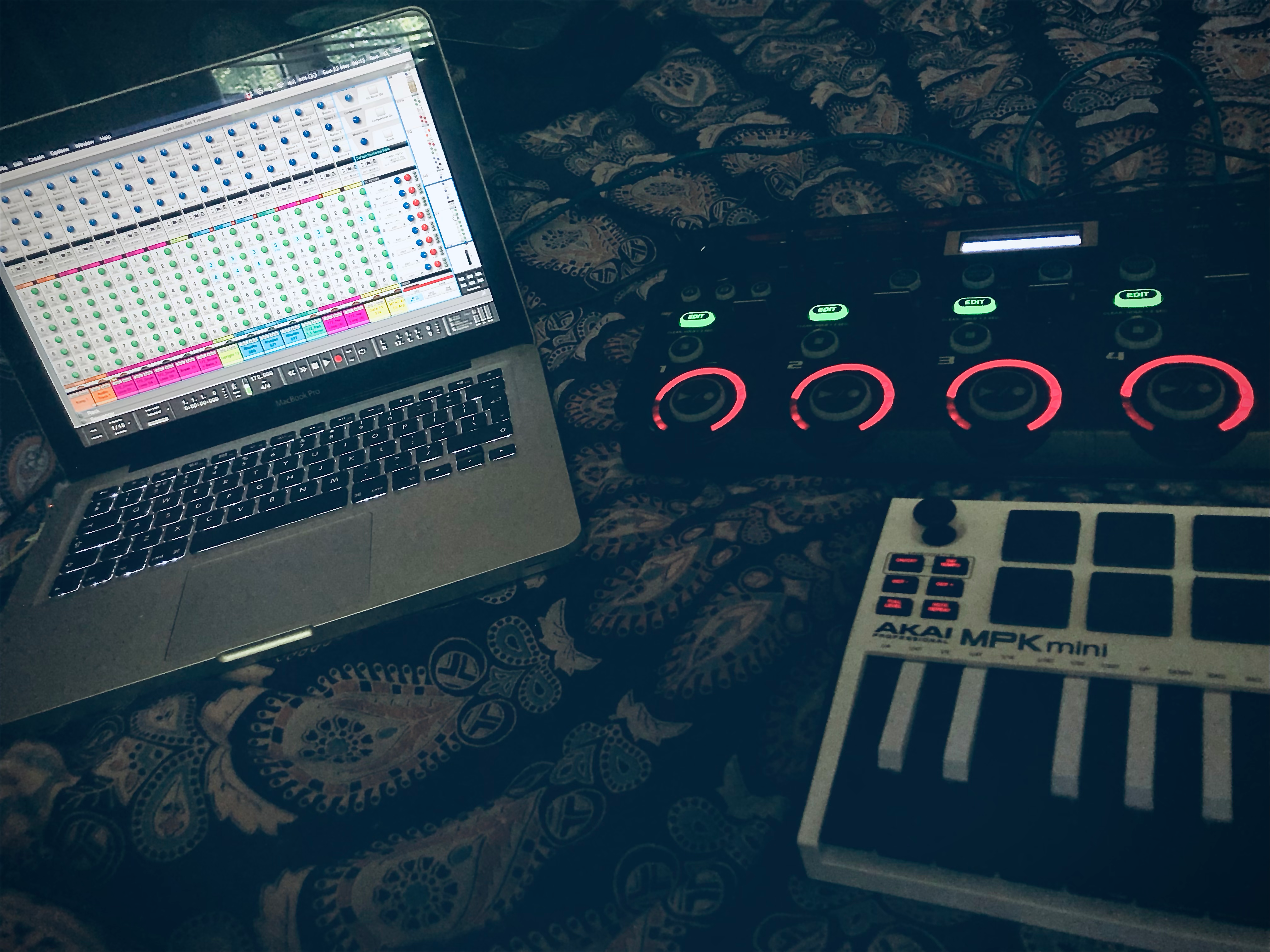 The whole idea of being able to produce, to all extents, fully produced albums at home, or a coffee shop, or a beach or mountain top somewhere with what can essentially be fit into an average laptop bag is still pretty mind-blowing to me. And while there are obvious limitations in some scenarios, there is still a massive scope of possibilities and I'm thankful that even though my main studio has been out of action I have still been able to work effectively and keep the music coming. Something that for most of my life would have been completely impossible.
Incidentally, purely as a sidenote, all of the artwork, graphic elements and videos associated with this release were also done on the same MacBook, making this as genuinely a self contained album as you're likely to find..
I must say though, it'll be great when I have my other gear in operation again!